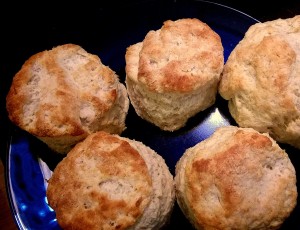 Being Southern, I LOVE biscuits. Ash makes these for me on occasion. She has made them with gluten free flour before, but they don't rise the same. My older brother, Chris, was visiting a few months back and shared the secrets of the perfect biscuit with us. These are sure to delight!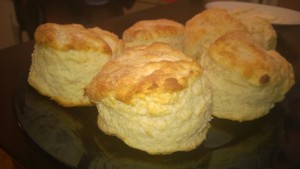 Buttermilk Biscuits
2015-02-22 11:32:34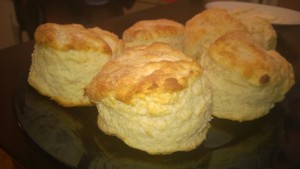 Ingredients
2 Cups Flour
1 Tbsp Baking Powder
1/4 tsp Baking Soda
1 tsp Salt
1 Cup Buttermilk
6 Tbsp Frozen Butter
Instructions
Heat the oven to 375° F.
Mix all dry ingredients in a large bowl.
Grate the frozen butter into the bowl using a cheese grater.
Pour the buttermilk into the dry ingredients.
Using your hands, mix everything together. Add more flour as needed until you get a good doughy consistency. Do not over mix. Try to prevent the butter from melting too much. It should be wet enough that it does not crumble or fall apart, but dry enough to come off the sides of the bowl.
Fold the dough over 15 to 20 times to get good flakiness.
Use a cup or cutter to form the biscuits. Put on a prepared cookie sheet and bake for 5 to 10 minutes or until golden brown.
Shawn's Food Blog http://recipes.shawnlelle.com/