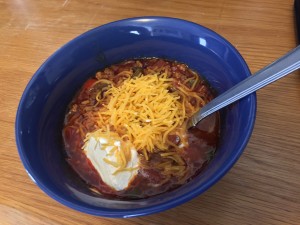 Shawn's Chili
2014-08-06 15:01:26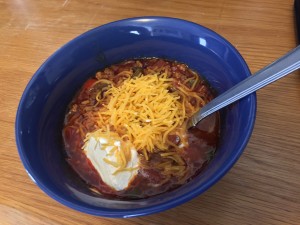 Serves 6
So I have this chili recipe that I made on my own. It's really good and über easy to make. The best part is how versatile it is. You can add more spice if you want. Make it thicker or thinner. I need to give some credit to TR Trevenen for the brown sugar idea. He tried the original recipe and said he likes the molasses flavor in his chili. So the next time I made the chili I tried it and have been hooked since.
Ingredients
1 lb Ground Beef
1 lb Ground Pork
1 can diced tomatoes
1 can kidney beans
1 Red Bell Pepper, diced
1 Green Bell Pepper, diced
2 Jalapeños, diced
1 Serrano Pepper, diced
1 White Onion, diced
3 to 4 cloves of fresh Garlic, diced
2 Pkgs McCormick Chili Seasoning Mix
2 Tbsp Extra Virgin Olive Oil
2 Tbsp Light Brown Sugar
Salt and Pepper to taste
Instructions
In large pan, sauteé the veggies with 2 Tbsp extra virgin olive oil until translucent.
Add the meats and brown.
In crock pot, empty the can of tomatoes and the can of beans, do not drain
Add the meat and veggies, brown sugar, and the seasoning mix
Mix thoroughly
Set crock pot to low and let simmer for several hrs.
Dish it up and enjoy.
Notes
I did two habanero chilis once. That proved too much for my untested taste buds. It was still good, but better if you like your food to be rather hot. For thicker chili, drain the beans and tomatoes.
Shawn's Food Blog http://recipes.shawnlelle.com/