Home Made Spaghetti Sauce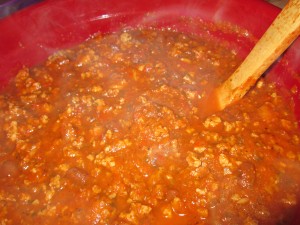 Spaghetti Sauce
2014-02-27 14:10:55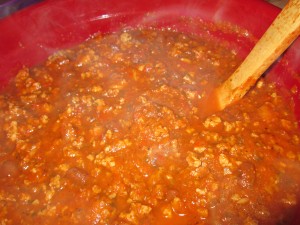 Serves 6
I love spaghetti. I have since I was a little kid. Progresso was always my fav, with a bit of added seasonings. But I am trying to be a bit better about what I eat and wanted something more organic for me. Something I knew what I was putting into my body. So I developed my own sauce. And it rivals anything you can get from a can. Here's how it goes:
Ingredients
1 Yellow Onion, chopped
4-5 Large Carrots, chopped
5-6 Celery Stalks, chopped
1 Green Bell Pepper, chopped
1 Red Bell Pepper, chopped
4-5 Cloves Garlic, chopped
1 Package Button Mushrooms, chopped
1 Can Diced Tomatoes
2 Can Tomato Sauce
2 Tbsp Parsley Flakes
1 Tbsp Oregano
1 Tbsp Basil
2 Tbsp Extra Virgin Olive Oil
Salt and Pepper to taste
Instructions
In Medium pot, heat the olive oil.
Add all the veggies except for the mushrooms
Add salt and sweat the veggies until translucent
Add Tomatoes and tomato sauce
Add mushrooms
Add the herbs
Let simmer so the flavors meld
Put in blender to smooth it out
Notes
I almost always add ground turkey or beef. This is my base sauce for spaghetti, lasagna, and pretty much any other Italian tomato based sauce.
Shawn's Food Blog http://recipes.shawnlelle.com/